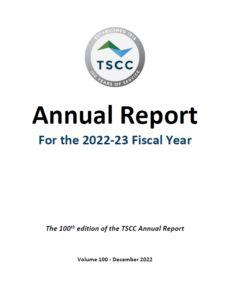 We are pleased to present the 100th edition of the TSCC Annual Report. We've made improvements based on stakeholder feedback for this special milestone. We would love to hear your feedback – please fill out our short 3-minute survey about the Annual Report. 
FY 2022-23 TSCC Annual Report
The report is split into multiple files due to size. The "General Information" pdf includes the table of contents for the entire report.
Report
Appendices
Prior year reports are available on the TSCC Publications page.