---
Serving Multnomah County for over 100 Years
The Tax Supervising and Conservation Commission was created by the Oregon Legislature in 1919 as an advisory body to oversee budgets, taxes, debt, and management practices of Multnomah County taxing districts. TSCC is an important resource for member districts and provides support, education, and consulting services to help districts be in compliance with budget law. We review and certify budgets, review property tax measures, and provide information and training for district staff.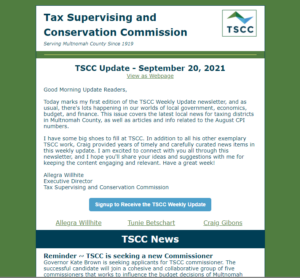 TSCC Update Newsletter
The TSCC Update Newsletter is a compendium of recent news and information for and about local governments and school districts in Multnomah County and statewide.
Subscriptions are free and users can easily unsubscribe.