On behalf of Governor Tina Kotek, the Multnomah County Tax Supervision and Conservation Commission is Seeking Applicants for TSCC Commissioner
Are you an engaged, curious and thoughtful community member with an interest in local government?
Do you want to represent your community by engaging closely with the budget process for large and small governments in Multnomah County?
Are you interested in learning about the budgets of the City of Portland, Multnomah County, Metro, Portland Public Schools, water districts, fire districts, and more?
If this describes you, you might be our newest TSCC Commissioner. For information on applying to serve on TSCC, please visit the Governor's Boards and Commissions Website.
For more information about TSCC and being a commissioner, read the position description. You can also contact Executive Director Allegra Willhite (allegra.willhite@multco.us).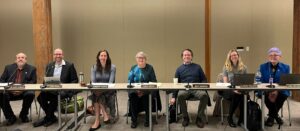 Who are the Commissioners?
The five commissioners are appointed by the governor. They can serve for two four-year terms. If you would like to contact the commissioners, please use the form on our contact web page here.
Commissioners
Harmony Quiroz – Chair of TSCC
Appointed: January 1, 2022
Term Expires: December 31, 2025
Experience: Harmony Quiroz is a professional educator with more than 15 years of experience as a teacher, curriculum and assessment developer, and project manager. She began her career as a middle school math and science teacher in New York City in 2004. She holds a Washington State Teaching License in Secondary Science. Harmony is currently a Senior Assessment Specialist with Houghton Mifflin Harcourt. She served as the Co-Chair of the Portland Public Schools Community Budget Review Committee from 2016-2019. Harmony is also a member of the Atkinson Elementary Parent Teacher Association.
Reason joined Commission: I strongly believe in the importance of public service – that it is the responsibility of all individuals in a community to engage in government. Joining the TSCC offers the opportunity to connect the needs and interests of taxpayers with the government officials implementing all of the activities in Multnomah County. I want to ensure that governments and agencies are spending money in ways that are reflective of the diverse perspectives in our community.
James Ofsink – Vice-Chair of TSCC
Appointed: January 1, 2016
Term Expires: December 31, 2023
Experience: James is a systems analyst and project manager in the Information Technology Group at Oregon Health & Science University and a career public servant. Prior to OHSU, James served as Assistant Director of the Office of Student Financial Aid and Scholarships at Portland State University. As part of his portfolio at PSU James was responsible for the management of over $250M in federal, state, and institutional financial aid. Outside of work, James practices extreme civics—serving on the board of the League of Women Voters of Portland, leading committees at City Club and the League of Women Voters of Oregon and helping wherever possible at Common Cause, the Oregon Center for Human Rights, and Hack Oregon.
Reason joined Commission: "I care deeply about the continued success of our public systems. We live in an amazing region, which we owe in no small part to the forward thinking and participatory policies of decision makers a generation ago. I hope that as part of the TSCC I can help bridge the gap between the perspectives of citizens and public executives. I believe the Commission can assist today's leaders in managing our natural, intellectual, and cultural capital for today's citizens as well as tomorrow's."
Matt Donahue
Appointed: January 12, 2022
Term Expires: January 11, 2026
Experience: Matt Donahue is an investment banker and financial adviser to local governments in Oregon. Matt started his career in public finance as a debt manager for the State of New Jersey Treasury. Since moving back to Oregon in 2010, Matt has worked on over 150 bond transactions with local governments in Oregon of all shapes and sizes including the state, school districts, cities, counties, community colleges, and special districts. He currently holds Series 7, Series 63, Series 50 (Municipal Advisor Representative) and Series 53 (Municipal Securities Principal) designations. Matt graduated from Harvard College cum laude with a Bachelor of Arts in Afro-American Studies. He also holds an MBA with a focus in finance from the Yale University School of Management. Prior to pursuing a career in public finance Matt worked in education as a teacher and for an online learning startup. In 2015, Matt chaired the Governor's School Capital Improvement Task Force and helped draft the legislation that established the State Office of School Facilities and OSCIM grant program. Matt lives in Portland, Oregon and in his spare time plays drums and the guitar.
Reason joined Commission: "I am excited to join TSCC as a commissioner. It is not every day that I have the opportunity to serve my community and apply my specific skills and knowledge towards its care and improvement. I see serving as a TSCC commissioner an opportunity to do just that and am excited to work with the staff and other commissioners on behalf of the citizens of Multnomah County."
Margo Norton

Appointed: January 1, 2016
Term Expires: December 31, 2023
Experience: Margo retired from a 30-year career in government finance and public policy.  She has worked at local, state and regional government levels in Oregon, retiring as CFO at Metro, the regional government, in 2013. In her early career she worked as a facility administrator at a nonprofit serving developmentally disabled children and adults in Eugene, an experience that encouraged her to serve as a board member for other nonprofits throughout her working career. In retirement she currently serves on the board of the Portland Revels, a community arts organization. She is a member of the Conductor's Society for the Oregon Bach Festival at the University of Oregon, and, on balance, a long-time supporter of the Marine Mammal program at Oregon State University.
Reason joined Commission: "Joining the Tax Supervising and Conservation Commission allows me to use a career's worth of knowledge about municipal finance, budgeting and policy making in public service to my neighbors, my friends and citizens I have yet to meet. The TSCC provides additional accountability that strengthens individual units of government and education, promotes collaboration among government service providers, and brings a higher value to taxpayers in Multnomah County."
Mark Wubbold

Appointed: January 1, 2022
Term Expires: December 31, 2025
Experience: Mark recently retired as the senior policy analyst in the office of the President at Portland State University. His eclectic portfolio included preparing testimony for legislative policy packets, as well as staffing Presidential initiatives — such as strategic planning and accreditation — with campus-wide implications. Previous to this, he was the special assistant to PSU's Vice President for Finance and Administration where he worked on fiscal management issues and special projects. One of these, the Financial Futures Task Force, aligned perfectly with the interests of the TCSS, since it led to PSU's adoption of Performance Based Budgeting.
Reason joined Commission: "TSCC service is consistent with my personal belief that budgets reflect the values of our institutions. How an organization prioritizes the allocation of scarce public resources is a window into its institutional soul. Service on a commission of this type is a wonderful way to better understand and appreciate the relationship between Multnomah County institutions, their values, and the people they serve. For a curious, community-oriented person, TSCC service is an opportunity that is hard to pass up."
Staff
Allegra Willhite, Executive Director
Employed with the Commission since: August 2021
Allegra oversees the daily operations of the Commission. She has over 14 years of experience in state and local government. She graduated with a bachelor's degree in sociology from Whitman College and earned a master's in public administration from Portland State University. Her career has included positions at the state, the League of Oregon Cities, Multnomah and Clackamas counties, and the City of Gresham. Allegra's work has focused on budget and financial analysis, leadership, project management, training, and communication.
Tunie Betschart, Budget Analyst
Employed with the Commission since: September 2004
Tunie's primary responsibility is the day-to-day operation of the office. She also takes a lead role in getting TSCC's Annual Report ready for printing. Tunie reviews budgets for compliance with local budget law and prepares reviews for the Commission. She also reviews annual audits of the districts as submitted by independent accountants. Tunie spent 20 years as an administrative assistant with the Maintenance Department at PGE's Trojan Nuclear Power Plant.